ModuleHUXSaverTM is 2G/3G Optical Repeater Core Saving Module for WCDMA which is 3 Generation Mobile Telecommunication. It means there is no need additional Fiber Core / Line for 3G Donor because it could be multiplexed and demultiplexed by HUXSaverTMon your existing optical fiber main core used for 2G Donor like below picture.
ApplicationsHUXSaverTM is designed by specially coated TheFibers'Filter for both of 2G (wavelength 1310 and 1550nm) and 3G (wavelength 1510nm, 1530nm and 1570nm). It has high isolation (more than 30dB) but it could be supplied according to your application requested specification like A) type below.
HUXSaverTM is supplied by 19"Rack Mountable 1 Unit and LGX compatible. Maximum 4 LGX Modules could be put on this 1 Unit and this Unit has Optical Cable Tray to manage the cable safely on upper side separately. The LGX Module could be put on your Remote by screw easily.
Cost Saving of Lease of Optical Fiber Line. Consisted Donor Shelf and Remote Shelf.
19"Rack Mountable 1 Unit for Donor.
LGX Compatible for Remote.
Fully Optical Passive Module Free Power.
Small Evaluation Order acceptable.
Fast Deliverywithin 1-2 weeks always.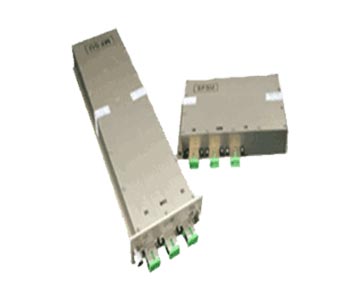 Parameter
HUXSaver TM
Common port Center Wavelength
1310/1510/1530/1550/1570nm
Pass port Center Wavelength1
1310/1550nm
Reflect port Center Wavelength
1510/1530/1570nm
Bandwidth
1310nm 1290 – 1350nm
1510nm 1503 – 1517nm
1530nm 1523 – 1537nm
1550nm 1543 – 1557nm
1570nm 1563 – 1577nm
Insertion Loss2
Pass Port < 0.8dB (Max)

Adjacent Port Isolation3
Pass Port > 30dB (Min)
Reflect Port > 30dB (Min)
Optical Return Loss
> 50dB (Min)
Polarization Dependent Loss
>≤ 0.1 dB
Ripple
< 0.5dB (Max)
Band Rejection
> 30dB (Min)
Wavelength Thermal Stability
>3pm/ ℃
Optical Gain Thermal Stability
>± 0.002dB/ ℃
Operating Temperature
>-20 to 70 ℃
Dimension4
483(w)x44(h)x400(d)mm/Unit 70(w)x15(h)x150(d)mm/Module